por Valentín García


::: EL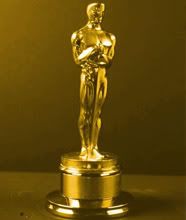 REGRESO DEL CABALLERO DORADO :::
Ya es temporada de
Oscares
y el jueves FINALMENTE dieron a conocer la lista oficial de nominados al
Premio de la Academia
. Todo el año de campaña para que
Heath Ledger
fuese nominado por su último trabajo como el
Príncipe Payaso del Crím
en
en The Dark Knight rindió frutos pero, además de su nominación a Mejor Actor de Reparto, la última cinta del
Caballero de la Noche
ha sido postulada en otras categorías; A continuación enlistamos todas las nominaciones de las películas comiqueras del año pasado:
MEJOR ACTOR DE REPARTO

::

Heath Ledger

por

The Dark Knight

MEJOR FOTOGRAFÍA

::

Wally Pfister

por

The Dark Knight
MEJOR DIRECCIÓN ARTÍSTICA

::

Nathan Crowley y Peter Lando por The Dark Knight

MEJORES EFECTOS VISUALES

::

Nick Davis, Chris Corbould, Tim Webber y Paul Franklin por The Dark Knight /

/

John Nelson, Ben Snow, Dan Sudick y Shane Mahan por Iron Man

MEJOR MAQUILLAJE ::

John Caglione

Jr, Conor OSullivan por The Dark Knight //

M. Elizalde y T. Floutz por Hellboy II: The Golden Army

MEJOR MEZCLA DE SONIDO:

Lora Hirschberg, Gary Rizzo y Ed Novick por The Dark Knight //

Chris Jenkins, Franck A. Montaño y Petr Forejt por Wanted

MEJOR MONTAJE DE SONIDO: Richard King por The Dark Knight //

Franck Eulner y Christopher Boyes por Iron Man //

Wylie Stateman por Wanted

MEJOR MONTAJE: Lee Smith por The Dark Knight
vía
El Universal.com.mx
::: EL REGRESO DEL CABALLERO KUNDALINI :::
Pues si, al parecer los desquehacerados que se robaron
La Covacha
son fans de
Oscarito Gonzales Loyo
y como buenos
"kaboones"
dieron a conocer la participación del
Kundalini Mayor
en
TV Azteca
la noche del viernes. No tuvimos oportunidad de ver la participación del enemigo de las mafias de la distribución pero esperamos le haya ido bien.
Como dato adjunto, esta es el único post "
original
" de los tipos que se apropiaron del blog, triste asociación para la gente de
Ka Boom
que suele trabajar sin meterse con los demas.
vía
los huevones que se robaron nuestro blog
::: LA AMENAZA DEL LOEB :::
Las brillantes ideas de
Jeph Loeb
seguirán durante este año sorprendiéndonos con su originalidad, para muestra tenemos el proyecto
post Ultimatum
que
Loeb
tiene con
Frank Cho
llamado "
New Ultimates
" -al parecer no le bastó desmadrar al equipo con el volumen 3. Pero su creatividad no se limita al
Universo Ultimate
pues en el 616 Loeb reunirá al equipo fundador de los
Defensores
¿contra quién se enfrentarán? ¡¡Pues contra los
Ofensores
!! ¿Cómo no se le ocurrió a alguien antes?
Al menos este año aparecerá una miniserie de
Loeb
junto a
Tim Sale
,
Captain America White.
Esperemos que cumpla con las expectativas que dejaron
Daredevil Yellow
y
Spiderman Blue.
vía wizarduniverse.com
::: ALFRED E. NEUMAN PESCA UN CATARRITO :::
Con la crisis a todo lo que da, los ejecutivos de
DC
se han visto en la necesidad de recortar la periodicidad de
Mad Magazine
, y en lugar de tener una revista mensual ahora será tetramestral.
Así es, a partir del
# 500
del mes de Abril
Alfred E. Neuman
visitará los puestos de periodicos y las tiendas especializadas solamente cuatro veces al año. En agosto (#501) y en noviembre (#502) apareceran las otras ediciones del año y la revista costará $5.99 dolares y pasará de 48 a 56 paginas. Aún no hay noticias de lo que sucederá con la publicación mexicana.
vía
newsarama.com