[Recopilación y redacción :: Valentín García]
.:: DÍAS DEL FUTURO PASADO
Fox libera trailer de la próxima cinta de los
Hombres-X
, a estrenarse en Mayo 2014.
Completando la información,
Marvel Televisa
publicará el Monster Edition
Days of the future past
que incluye el material
UNCANNY X-MEN (1963) #138-143 and X-MEN ANNUAL #4,
donde se ve la primera aparición de
Alpha Flight
, el regreso de
Wéndigo
y la historia de los
X-Men
por
Cíclope
.
¿Reconocen a los nuevos mutantes?
vía YouTube
.:: CLONES PARA UNOS, BANDERITAS PARA OTROS
Sorprendiendo a propios y extraños,
Giobany Arévalo
confirmó que tras terminar
Atracciones Fatales
en el Marvel Especial Semanal publicará
La Saga del Clón,
¿qué? ¿estamos en los 90 o qué? y sobre todo ¿qué pasó con Hunger?
A favor del director del área de cómics de
Editorial Televisa
, se trata de la miniserie de seis números publicada en 2009 que supuestamente cuenta la historia que originalmente estaba planeada con Ben Reilly antes de que los directivos marvelitas decidieran cambiarla.
La miniserie está a cargo de los noventerísimos
Tom DeFalco, Howard Mackie
y
Todd Nauck
, y cuenta la historia del regreso del clón de
Peter Parker
cuando la tía
May
está a punto de fallecer y
Mary Jane
está aparentemente embarazada.
Más explicación, lean la siguiente nota: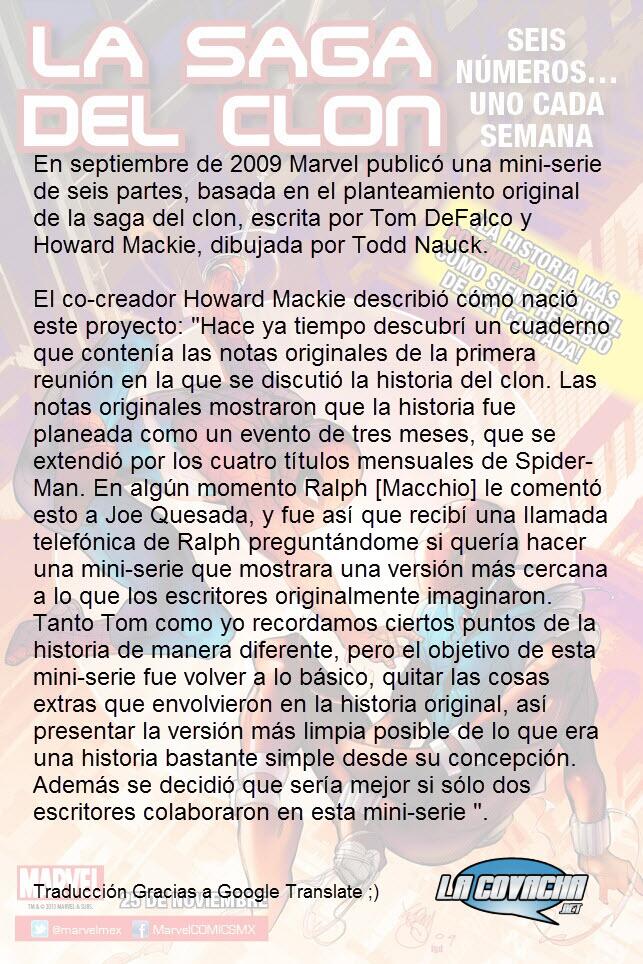 vía el chuirer de @Sr_Giobany, con información de Marvel.com
.:: BEN KINGSLEY REGRESA EN FORMA DE FICHAS
Hace una semana,
Ben Kingsley
confirmó que estaba trabajando en un proyecto secreto para Marvel en el que trabajaría gran parte del equipo que trabajó en
Iron Man 3
. Hoy revelaron de qué se trata y en caso de que quieras evitar spóilers, no sigas leyendo.
El proyecto secreto se trata de un
Marvel One Shot
, los cortometrajes marvelitas que se incluyen en los DVD y Blu-Ray - y ya se filtró la información de qué va, ¿no quieren spóilers? buen momento para dejar de leer.
El cortometraje mostrará al "verdadero" Mandarín enojado con
Aldrich
y
Trevor
por la manera en la que se burlaron de su legado y ajustará cuentas. ¿Cómo las ajustará? Eso no lo dice la nota que prácticamente estamos traduciendo y volándonos para
La Covacha
.
vía LatinoReview.com
.:: SUPERMAN EN 75 AÑOS
Imagen publicada por
@SupermanTweets
:
.:: RAPIDÍNES DE LA COVACHA
Buzzfeed da un adelanto de 5 páginas de Sandman: Overture por Neil Gaiman y J.H. Williams III - velo acá.
The Darkness # 1 de Panini saldrá a la venta el 7/11/13, pero ETCO asegura que lo tendrá disponible desde el sábado - checa su información aquí
Panini publicará en diciembre The Boys #1 (cómic doble) y Némesis (TPB - $69), también nos lo informó ETCO.
El Omnibus Spider-Man Números Perdidos se publicará finalmente en diciembre - según lo dijo Marvel México.